An Alternative Approach for Young People in Kent
MXCP provides a viable alternative to young people who are out of mainstream education in Kent and the South East and are looking for useful skills.
Using motocross as a practical tool, we educate, motivate and enthuse these young people towards success in a range of courses that teach practical, social and functional life skills. These skills give them a future with options and choices that might otherwise not have been open to them.
Core Skills & Alternative Curriculum classes
The young people who attend MXCP have generally not been in full-time mainstream education. We are here to support them regardless of social, behavioral, emotional or academic issues and offer various alternative curriculum and core skills classes alongside our motocross and mechanics training programme. Due to the fact the sessions are short and with small group sizes, students can work at their own pace with all the support, assistance and encouragement they need. Our aim is not only to teach practical and functional skills but to build self-esteem, increase confidence and improve social skills.
We believe that every aspect of the course is achievable and that every single student acquires valuable skills and knowledge that will help them in life. We also pride ourselves on making a positive impact in their lives and helping them in a unique setting that utilises a dynamic teaching method to engage them on a level that benefits them and that can be tailored to their individual needs. 
We currently offer the following courses:
Today's the Day - 10 Weeks, 16-18, For young people struggling with ETE, those disengaged from employment or education and are in care or care leavers. Funded by Comic Relief.
Step Up - 6 Weeks, 16-20, For people located within Alyesham, Deal, Eythorne, Eastry, Sheperdswell, St. Margarets and Sholden areas. Funded by Coalfields Regeneration Fund.
We also provide other courses on certain days of the week and if you are interested please contact the office. 
ASDAN-accredited courses
All courses are ASDAN-accredited and can be modified in both content and length to meet the needs of the individual or organisation. Students generally attend from one to three days per week, with a minimum six weeks' attendance required to achieve ASDAN certification.
Courses are charged upfront per term. Please contact us for full details and individual costs.
Equipment & Transport provided
All course equipment is provided, as well as transport to and from Dover Priory Station if required. Full safety gear and equipment is also provided for workshop and motocross sessions. Students only need bring a packed lunch and completed consent form (downloadable here).
See the news feature of our project by the BBC.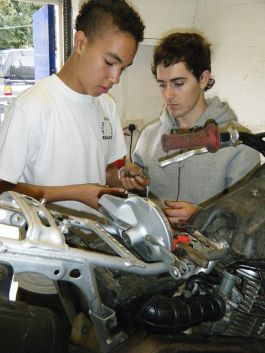 Downloads